Termite Treatment Gold Coast
It is a disturbing fact but true: Approximately one in every three homes at some time or another will be attacked by one of the most common and feared pests of our South East Queensland region: Termites. These pests thrive in this part of the world due to the ideal warm and wet conditions that termites favour. We sometimes call it the termites' largest "all you can eat" buffet—even more so when property owners take the risk of skipping routine, effective termite treatment, leaving them unprotected from the most dangerous timber pest throughout the Gold Coast and Queensland.
Every property in Australia is in need of effective termite treatment. Gold Coast Pest Management Solutions are the number-one termite specialists when it comes to protecting your home and providing a tailored termite treatment to fit your particular property and secure long-term protection against termites.
Gold Coast Pest Management Solutions is equipped with industry-leading termite detection tools and termite treatment solutions. We strive to build long-term relationships with our customers by establishing regular termite inspections to become aware of any and all potential problem areas, whether out in your yard or inside your home.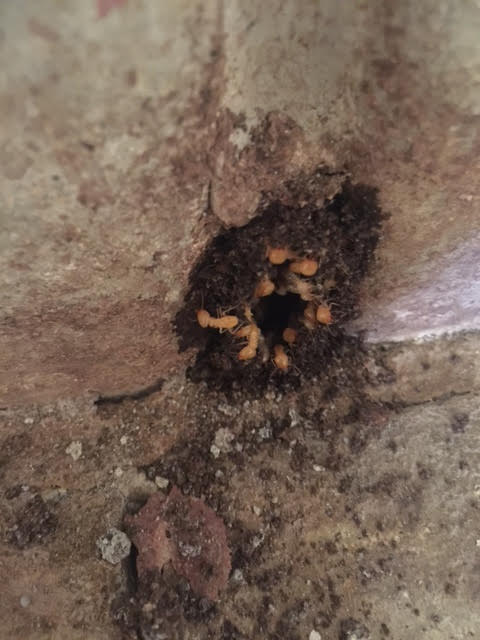 Our favorite scenario is being able to minimize the risk of termite infestations long before they occur. However, again, the odds are often stacked against you living in a climate that's ripe for termites to thrive. And the truth is that a thriving termite population by definition will grow, which translates to an increasing need to find new sources of food and water. Given enough time, that could literally drive a colony right to your doorstep.
When Termites Attack
If our thorough inspection reveals that you do, in fact, have termites in your home, we will take appropriate measures to treat the problem. The first step will always be complete extermination. Above- or below-ground termite baiting systems and liquid chemical barriers are among the many solutions we can use, but whatever the circumstances, we will always tailor our approach to the type of termite that has infested your home, its point(s) of entry, location of any nests and many other factors. There is no one-size-fits-all approach when termites strike—but no matter what, you want them out as quickly as possible.
At the same time, it's critical that we get to the root of what conditions have unwittingly made your property or structure inviting to termites in the first place. That informs us how best to prevent re-infestation in the future. Depending on the damage that's already done, you will likely need to make some structural repairs. We can advise you on how to improve ventilation to avoid high moisture levels, repairs that might need to be made around the outside and perimeter of the house (including replacing rotten siding, peeling paint or water-damaged window sills), and so forth. While solid construction and home maintenance take top priority, we can also help enhance your property's protection against termites by treating the soil with an environmentally safe termiticide when appropriate.
Pre-Construction Termite Treatment
Another important service we offer our customers pre-construction treatment that minimizes your chances of termite infestation during the life of your property. While no termite company can guarantee that you'll be 100 protected forever, proactive treatment at the time of construction—followed up with annual inspections—can go a long way when it comes to termite prevention.
Make sure your builder is well informed about quality construction practices from top to bottom to make your new house less vulnerable to pests of all kinds. But there are additional measures we can take to keep termites at bay, such as setting up physical barriers and treating the soil outside the foundation with an approved termiticide. We can also treat crawl spaces and anywhere else in the home known to be particularly vulnerable to termites.
Earning Customers' Trust
At Gold Coast Pest Management Solutions, we never forget that our customers' homes represent their most valuable assets. You want to hire a pest-control service you can trust to provide expert, thorough inspections and treatment for the life of your home. When you call us, we are more than happy to answer any questions you might have about our services and treatment plans to make sure you're comfortable you have made the right choice. With nearly 80 percent of our business coming through either repeat business or referrals, we feel confident that you'll trust us as well to be your best barrier against termites. Please call us today!
Call For Expert Termite Treatment
Gold Cost (all areas)

0413 943 767
For Fast, Friendly Service