Wild Dog Control Gold Coast
Feral animal pest control on the Gold Coast for pest's such as wild dogs, foxes and feral cats is something a lot a properties west of the M1 are heavily infested which and are continuously at a loss due to the costly damage cause by wild dogs. Wild dogs are such a huge problem through Queensland and are quite heavily infested throughout the Gold Coast Hinterland areas such as Bonogin, Talllebudgera & Currumbin Valley, Reedy Creek, Guanaba, Numinbah etc.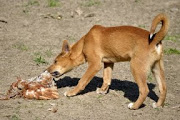 Controlling such pest as wild dogs can be very time consuming and many Gold Coast property owners do not have the expertise and time to constantly provide their land with effective feral animal pest control.
Wild dogs not only destroy Australian wild life and native fauna but can cause a devastating  kill to a group of livestock in a single night, often times leaving livestock to suffer a long and painful death. Not only is livestock under threat due to wild dogs but wild dogs have also killed and injured a number of family pets and will stalk and if given the chance attack a human. Although wild dogs can roam solo, they are mainly found in packs, which are very aggressive and ruthless and will easily take the opportunity to attack two grown adults. To effectively control feral animals in a community such as the Gold Coast, professional feral animal control must be implemented along with property owners taking responsibility for controlling pests on their land.
Gold Coast Pest Management Solutions are experts in feral animal removal and wild dog pest control and service all of the Gold Coast areas including the hinterland. Gold Coast Pest Management Solutions are licensed and insured shooters and trappers and will provide a professional pest and feral animal management program tailored to your property and pest concerns. Gold Coast Pest Management Solutions 'Pest & Feral Animal Management' 0414943767
Call For Expert Wild Dog Control
Gold Coast (all areas) 0414 943 767
Also Hinterland, Northern NSW, Brisbane Areas
Wild Dog Removal