Pigeon Control Gold Coast
Gold Coast Pest Management Solutions are experts in providing a range pigeon control solutions and have been servicing Brisbane & Gold Coast suburbs for pigeon removal for several years and are equipped to tackle your issue wether its a commercial or domestic pigeon pest control service Brisbane or Gold Coast . Equipped and licensed for a variety of pigeon removal techniques that can provide any property or structure with a professional and final solution form trapping, shooting, baiting to after-hours discreet pigeon removal programs to allow regular business to flow as normal,while our professionals discreetly carry out a pest control service out of the public eye. Pigeons are often seen and ignored scavenging for food in the city and in other high populated areas such as shopping centers, food courts, car parks, under bridges etc. Although they are harmless in nature they pose a serious health threat that often is overlooked until its to late.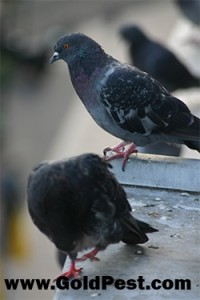 Pigeons will infest buildings and external gutter of roof tops, window ledges causing unsightly mess and defecation to external surfaces. Pigeon droppings are extremely harmful to one's health and are related to numerous health and respiratory lung illnesses. The most significant health risk that comes from the pigeons droppings is a disease organism that will grow under and in the droppings known as cryptoccosis and histoplasmosis which are both a cause of respiratory disease and can occasionally result in serious and deadly infections. Salmonella is another disease highly transmitted by pigeon and Gold Coast Pest Management Solutions have had clients that have experienced this first hand with the horse stable being infected with salmonella killing a young foal.
Often when pigeons are roosting on a building or pigeons have been removed from a building the occupants of the building experience bite irritations over the body caused by bird mites. Gold Coast Pest Management Solutions are the experts in pigeon removal and pigeon control servicing Tweed, Gold Coast & Brisbane with a number of pigeon pest control solutions including trapping, baiting, deterrent systems, shooting and many other professional pigeon management solutions. Call the experts in pigeon control, Gold Coast Pest Management Solutions 0413 943 767
Pigeon Control & Pigeon Removal services Gold Coast, Brisbane & Tweed include pigeon trapping, pigeon baiting, pigeon shooting & pigeon deterrent systems. Gold Coast Pest Management Solutions, experts in pest control & feral animal removal!
Call For Expert Pigeon Removal Service
Gold Coast (all areas) 0413 943 767
Gold Coast Pigeon Control Services