Termite Management Gold Coast
There are plenty of pests in the world—rats, possums, bees and wasps, to name a few—you never want to see lurking or flying around your home. But what about the pests you don't see?
Termites do their 'best' work right under our noses, and often remaining undetected until it's too late. You need professionals who are well trained in termite detection and management and come armed with the latest, most effective equipment designed to find and resolve your termite problems—from prevention and detection to complete eradication. We serve both domestic and commercial clients, because we understand that termite infestations are a costly problem you can't afford to worry about either at home or work.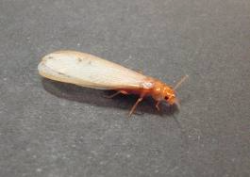 Where Termites Hide
By nature, termites avoid light and rarely come out into the open. Termites are often found within timbers and protected from the outside environment. If they remain in their natural habitat, termites actually serve a valuable function by recycling organic matter and adding nutrients back to the soil. Often they conceal themselves inside timber and built a complex set of mud-like tubes or galleries that extend from the central nest to a food source above or below ground level. As colonies grow, so will the passageways they travel in search of food and moisture. The gallery system of a single termite colony may exploit food sources over as much as one hectare, with individual galleries extending up to 50m in length. It's no wonder there's a good chance termites will eventually find their way to your house or commercial structure. Left unchecked, termite colonies can enter buildings by penetrating cracks in the concrete slab and brickwork, building their nest in the wall cavities and roof void.
Once termites have entered your home or structure, they do not limit themselves to destroying wood. Different species (see below) vary in their habits and feasting preferences—from timber to paper, cloth, carpets and other cellulose materials—so the havoc they wreak will depend on what kind of termite has invaded your home.
Termites Commonly Found in Queensland
There are several species of subterranean termites common to our area, and a reputable pest-control company will be experienced in understanding how their different behavioural patterns and the dangers they pose to your structure affect how we can best prevent, detect and eradicate them.
Some of the more common termite species in our area include:
Schedorhinotermes intermedius. Responsible for nearly half of termite attacks in and around Brisbane, the schedorhinotermes species likes to build nests in dead or dying trees, underneath buildings or anywhere timber makes contact with soil. They are known for gouging out the wood they've claimed for their own and are attracted to areas around iron nails. Timber is particularly susceptible.
The species Coptotemes aniciformus is similar in many ways to the schedorhinotermes—attracted to darkness and highly destructive. They love urban areas and anywhere eucalypt gum trees are present. Coptotemes aniciformus like to live in the root crown of trees or buried timber where they have access to moisture.
Another species we often encounter are the Nasutitermes Walkeri. These termites tend to pose less of a danger to home structures. Left to their own devices, they prefer to munch on weathered, wet or even decaying timber, which is not likely to be present in your home…at least not in plain site. However, they will come lurking around in search of sub floors in poorly ventilated areas of the home, and over time this can cause structural damage. They are also attracted to any timber that comes in contact with soil. This makes fence posts and other types of timber landscaping elements particularly vulnerable to attack.
The newest termite threat invading the Gold Coast/Queensland area is the mastotermes darwiniensis. This species—which can be two to three times as big as other termites—used to live exclusively in northern Australia, but in recent years some have been spotted further south. Their curious diet poses a unique risk to things including rubber tyres, electrical wire and living trees in your yard. They're also particularly challenging to get rid of once they've moved in.
This is far from a comprehensive list, but it gives you an idea of the different kinds of termites we commonly deal with and the importance of hiring a termite company that knows how different termites behave, where they hide and the damage they cause.
Why You Need A Termite Expert
The bottom line is that termites are a constant threat to your property, and without an effective termite prevention program, your home or structure is exposed to potential termite damage that could remain unnoticed until it's already become a serious and costly problem.
We have the latest equipment and technology including Thermal Imaging cameras, moisture meters and stethoscopes to aid in termite detection and deliver the Gold Coast Pest Management solutions you deserve. Please visit our page on termite inspections to learn more about our expert services.
We have the latest equipment and technology including Thermal Imaging cameras, moisture meters and stethoscopes to aid in termite detection to deliver you a trusted gold class service. Please visit our termite inspections page to find out more.
For Expert Termite Management
Gold Coast (all areas)
0413 943 767
For Fast, Friendly Service