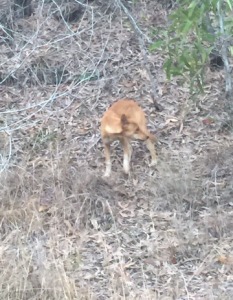 Gold Coast Pest Management Solutions Solutions provide pest & feral animal removal to Ispwich, Redbank Plains and surrounding suburbs. Wild dogs are a class 2 pest that will often hunt in packs and can severely decimate a large number of livestock & poultry in a single night. Wild dog numbers have increased over the years becoming a costly pest for farmers and property owners. Often the domestic dog can become lost and become feral leading to an increase in the size of wild dogs being caught throughout Australia.
Wild dogs are known to attack and kill the domestic dog and will kill livestock just for the thrill of killing. When do prey on livestock they will on numerous occasions eat and disembowl the animal will the animal is still conscious. Gold Coast Pest Management Solutions are licensed and insured wild dog shooters, trappers and controllers and will quickly and effectively implement a professional wild dog control program to your property.
If you have experienced the costly damage to livestock, poultry and your domestic household pets do not wait any longer to take action as these pests will only multiply and continue to become a growing pest and financial loss to your property. Contact Gold Coast Pest Management Solutions to arrange a suitable feral animal control program. We are equipped, licensed & insured,  experienced and cover from the Murrwillumbah NSW to Brisbane & All western suburbs such as Ipswich, Redbank Plains, Brookfield, Kedron etc.