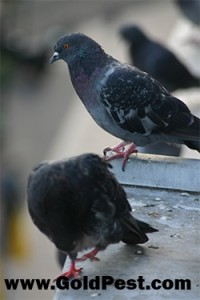 Gold Coast Pest Management Solutions are experts in the control and removal of birds such as pigeons. Gold Coast Pest Management Solutions are licensed and permited for a number of pigeon pest control solutions including pigeon trapping, pigeon baiting and removal of pigeons with the use of firearms to allow for a fas and effective pigeon eradication treatment.
If your building is infested by pigeons you are in need of a professional and experienced pigeon pest controller. If left untreated or left in the hands of an un-experienced bird controller, the pest issue you are experiencing will continue to increase. When pigeons infest a structure they also bring additional pest such as bird mites and bacterias detremental to humans such as Salmonella and Ecoli along with further and numerous bacterias. Gold Coast Pest Management Solutions service the Ipswich suburbs for pigeon pest control and have carried out numerous effective pigeon removal programs from Northern NSW to the North side of Brisbane and Western suburbs such as Ipswich. Our clients range from commercial & doemstic buildings, body corporates, shopping centres, horse stables, fuel sites, industrial factories. Marinas to domestic homes.
If you are looking for a final solution for your pigeon issue do not look any further as Gold Coast Pest Management Solutions are well recognised for their effectiviness and know how in pigeon control and can provide a complete eradication program to a site clean up to break down and sanitise nasty bacterias that harbour form pigeons.
Pigeon trapping
Pigeon baiting programs
Pigeon shooting
Pigeon & bird deterrant systems & proofing